How to Inspect Your Roof and Gutter System
submitted on 8 January 2016

Most often water leaking into the home after a heavy rain is a sure sign that there is a leak somewhere in the roofing system, but this isnít always the case. There are times when just enough water seeps through to do some serious structural damage without being visible to the people living within. It is suggested that you examine your roofing system at least twice a year to prevent damage that is costly and sometimes even unrepairable.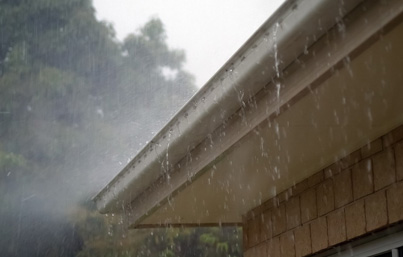 Royalty free photo

The Best Time to Inspect Your Roof
It is suggested by roofing professionals that you inspect the roof, gutters, soffits, fascias and downspouts at least two times each and every year. Typically this is done in the weeks prior to seasonal changes. In many areas of the country that would be just before rainy or snowy seasons which would put the timeframe somewhere in early spring and mid to late autumn. If you live in areas such as South Florida, the rainy season is in the summer when monsoonal downpours are a daily occurrence. In other areas of the country such as South Dakota, local Sioux Falls roofing companies recommend inspecting the roof at least prior to the warm summer months when monthly rainfall can total more than three inches.

How to Spot Leaks
Some roofing leaks are not visible from within the home because there is an attic in between the roofing structure and the living area. It is recommended that you first inspect all the ceilings in your home for signs of discoloration or warping. If problem areas are spotted, make note of the position relative to the perimeter and then check the tiles, shingles or other roofing materials to find the exact leak so it can be repaired. Some repairs can be a DIY project and other repairs are large enough to warrant hiring a licensed roofing contractor.

Inspecting the Gutter System
When inspecting the gutter system it is not sufficient to just glance up to see if there are any leaves and debris visible from the ground. Yes, that would cause the water to collect at those points but that is not your only concern. Sometimes flying or falling debris leaves holes in the gutters or downspouts which, in turn, causes water to pool on the ground (or in the foundation!) at those points. It is actually necessary to climb up on a ladder to do a sufficient inspection to reassure yourself that there are no areas in the gutters that are leaking slowly enough to go undetected by the naked eye. These can be the most problematic areas of all!

If you have any physical limitations that would keep you from safely climbing heights to do an inspection, it is recommended that you hire professionals. An annual inspection at a cost is better than none at all so if money is a problem, do the best visual you can from the ground and have an annual inspection completed by a roofing contractor with a reputation for honest and ethical practices. The integrity of your home could depend on making any necessary repairs before major damage is done. As one of the biggest investments youíll ever make, itís up to you to safeguard it for the long haul.