The number one infrared heating brand in the UK.



http://www.infrarad-heating.com



Discovered by Sir Frederick William Hershel, infrared heating is rapidly becoming the heating of choice across the UK.

Infrarad are the UK's number one supplier of infrared heating and specialise in providing heating solutions for homeowners (restaurant owners, hoteliers, factory owners, classic car collectors, churches, mosques and even farm buildings) looking for a stylish economical heating system. Infrared radiators cost less to install with long term savings to follow, as running costs are lower than other methods of heating. The technology employed is long established, safe and easy to understand. The Golden Rule is to calculate the heating requirements for an area at 25watts per m3 rather than 50watts per m3 for conventional convection heating.

Infrarad products are available from a network of heating and plumbing merchants, bathroom and kitchen retailers and electrical wholesalers across the UK. Infrarad heating products must be installed by a suitably qualified and competent person. For optimum efficiency all installations must be fitted with programmable thermostatic controls.





UK (Leighton Buzzard, Bedfordshire) based business providing infrared heating products. Website includes catalogue of products, associations (stockist search), news section, full contact details.

homeandgardenlistings.co.uk reviewer
Website Last Visited By Us on:-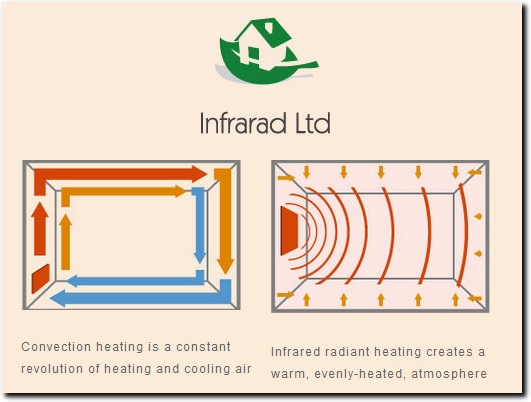 Location of Company
View map in more detail