Plant Pots, Labels, Trays & Garden Tools

https://www.thegardensuperstore.co.uk
The Garden Superstore is oneof the UK's leading online suppliers of gardening supplies and products. We've been supplying gardening products to keen gardeners, allotmenteers, councils, schools and universities since 1999, and ship throughout the UK and Europe. Despite ourname, we are a small, family run business based in Andover, Hampshire.
One of our key areas is the supply of plastic plant pots, where we probably have the biggest range available on the web. Our plant pots are, generally, available as round pots, square pots and even lightweight and heavyweight versions. You'll find plant pots for nursery growing, container plant pots and pots for specimen plants. In terms of sizes available, they range from a tiny 50mm diameter pot, up to a plant pot that has a diameter of over a metre!
Our range of seed trays is also particularly good. We stock both full sized seed trays and the half size, as well as even larger trays. All these trays come from some of the very best names in plastic gardening manufacturers, such as Sankey, Stewarts and PlantPak. All of our seed trays are the heavyweight type, that can be simply washed out and reused each season.
The range of plastic plant labels is very comprehensive, with the standard stick-in plant labels available in 7different sizes and various colours. Other labels available include T shaped plant labels, angled head and blackboard labels, as well as lock loop labels which are ideal for labelling shrubs and trees. All of the labels,with the exception of the blackboard labels, can be written on with either permanent marker pens or the traditional pencil.
Garden tools, again, feature some of the very best and well known names in the business, such as Spear &amp Jackson, Fiskars and Wilkinson Sword. We stock a complete range of garden tools,including secateurs, loppers, digging and border spades and forks, rakes and hoes.
Our Garden Watering department features the complete Hozelock range of watering products. This includes the ever popular Hozelock Hose Reels and Hozelock Garden Hoses. Furthermore, we stock all their spray guns, hose and tap fittings and sprayers, such as the KillaSpray and KillaSpray Plus.
Becoming increasinglypopular is the vast range of easy to use and good quality Hozelock Micro Irrigation products. These are great for taking the effort out of watering and can be invaluable for wateringwhen away, without relying on the neighbours! They can be fully automated with the use of a programmable watertimer. There are also available MicroIrrigation Sets which can be a complete solution or a great start and introduction to irrigation.
So whatever you plan to doin the garden, you're sure to find the right tools for the job at The GardenSuperstore.
If you need any help and advice please do not hesitate to contact us on the details below:
The Garden Superstore
Unit B
Little Park Farm
Farm Road
Abbotts Ann
Andover
Hampshire
SP11 7AU
Tel: 0845 303 8653 or 01264 –712042.
Don't forget to see our range of:
Hanging Baskets - This includes Hanging Baskets, Hanging Basket Brackets, Basket Liners, including both Jute Liners and Moss, as well as Fixing Kits.

Garden Fleece - Available in rolls, in varying widths and as long as you like. Also available are Fleece Jackets (pictured).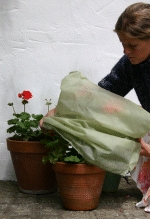 Call us for any help and advice you might require on 0845 303 8653 or 01264 - 712042.
---