Bargain Garden Antiques

https://bargaingardenantiques.com/
BARGAIN GARDEN ANTIQUES
We are the Interior and Exterior Specialists, the Home of Great Bargains for your Home and Garden. For your Garden We Supply a Diverse Range of Fine Vintage Style Cast stone Garden Statuary. For your Home Interior we have a Wonderful Range of Stylish and Stunning Reproduction and Vintage Also Antique furniture and Beautiful array of High Quality Smalls. We offer many Desirable Styles from Retro to Vintage, Chic to Deco, Art Nouveau, Edwardian, Victorian, French and European Country Styles, as well as Architectural pieces. We Offer Free and Quick Delivery on All of our Products.


Our Garden Exterior Ranges from Classical to more Primitive styles from our Large Entrance Stone Duke Lions, Lion Urns &amp Impressive Standing Lion Troughs, Cherubs, Japanese and Chinese Pagodas, Venus De Milo on Corinthian Column, Jug Lady on Fine Corinthian Plinth. Gothic lady's and Beautiful Pandora Standing on Pandora Circular Plinth. Gargoyles and Devil Minions, Basket lady's on Fancy Palladium Plinths, Harvest Girls 's on Decorative Plinths, Roman Rose and Flower Lady's on Corinthian columns, Gothic Birdbaths, Antique Victorian Style curved benches, Fairy's, Plant pots, Fountains, Bronze Garden Table &amp Chair Sets, Mushroom stools, cast iron garden pumps, Race Horse Busts of Arkle and Shergar Statues and much more.

Our Home Interior Ranges from Shabby Chic Tables, French Empire Fancy Armchairs, Works of Art, Vintage Paintings, Prints, Pictures. Bohemian Crystal Vases &amp Rose Bowls. Stunning Art Glass Lamps. Silverware, Vintage Oak and Pine Monks Benches. French Entrance Hall stands. Partners Desks, Silver Plaques &amp Silver Cigarette Cases/Purses. Chesterfield leather sofas, Captains Chairs, Armchairs, Chests &amp Bookcases. Farm house tables , Pine Tables &amp Art Deco Leather Club Chairs, Ornate Firescreen giltwood Tapestries, corner display cabinets,Georgian style bookcases, Leather Captains chairs, Jacobean Barley Twist Farmhouse Tables, coffee tables etc, bronze statues, Jewellery boxes, carnival glass, Stein Tankards.
We also Buy Antiques and Reproduction furniture and Architectural items, and Conduct House Clearances, if you have anything you wish to Sell or Move on Please get in Touch with us on 07454747540 as it may be of interest.

We accept all Debit and Credit Cards through Paypal, Company Cheque and Cash. Thank you for Visiting the website and come back again.

(If you have any enquiry about a product/delivery or wish to arrange a viewing)
We are Open 7 Days a Week By Prior Appointment
Mon-Sat 9.00am-6.30pm
Sun 10-4pm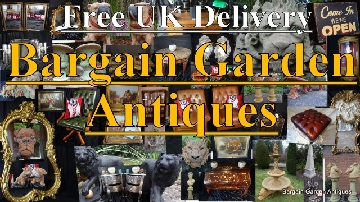 UK based business providing garden furniture and decorations for sale. Website includes e-commerce facilities, returns policy, terms and conditions, contact phone number and email address.

homeandgardenlistings.co.uk reviewer
Website Last Visited By Us on:-
Social Network Presence